Welcome to the Dance Club of Grays Harbor!
DCGH Contact Information -- Arlene Hoiland -- (360) 533-1412
EVENTS PAGE: DCGH monthly dance schedule, newsletters, special events information, dance class information, and other publications
PHOTOS PAGE: photos from current monthly dance, special event photos, and links to our dance videos on YouTube
ABOUT US PAGE: Officers, Board Members, Committee Members, and other information about the Dance Club, plus Arlene Hoiland's bio
The Dance Club is celebrating its 10th Anniversary at our February 17 dance.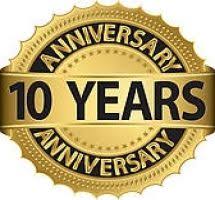 Please come and celebrate with us!
(See the Events Page for information on the dance shoes raffle drawing on 2/17)